As somebody who moves like greased lightening (or so I have been told), once I make a decision to do something, I research it to the hilt and pull the trigger. This is just how I operate—you are either with me or you are not. Luckily for me, I found a great partner who can hang on for the ride and who helps fuel me and my grand plans. The way we started investing in real estate has been no different.
Background
The quick rundown is that I have been thinking about investing in real estate for years. Still, for one reason or another, I just couldn't do it. First, my ex-husband and I were in debt up to our eyeballs because I stayed home with the kids when they were young. Then, I got divorced and was so broke that I was on food stamps. This meant that I obviously didn't have the capital—or the time—to invest in real estate. As I started to get out of debt and off of food stamps, my perspective started to change.
I met Bryan, and we eventually created a blended family of seven. After the seven of us lived in my 1,000 sq. ft. primary residence for about a year, we decided something had to give. I have a background in the building industry, so I do a lot of my own renovations; however, I did not want to take on a full addition to the house to increase the square footage with the seven of us living there. Plus, that would have put me into more debt as opposed to getting out of it. So, after doing some market research and a little digging, I decided to put my house on the market and embarked upon the journey to find something larger.


Selling the House
I made the decision to sell the house in early February. I did the research and found a fantastic real estate agent (who I still use for everything today), spruced it up to get it market ready, and put it on the market by early March. At that point, we found a house perfect for us just five minutes north of where we currently resided and put in an offer. It was the first house that all seven of us loved, so it seemed like the one. There was a bidding war, so I took the advice of my real estate agent and changed my due diligence (DD) and earnest money (EM), as well as wrote a custom letter with pictures to the seller. And we won the bid!
My house went under contract five days later, and we set everything up for a simultaneous closing four weeks out. So, when I say that I move like greased lightning, that is what I am talking about.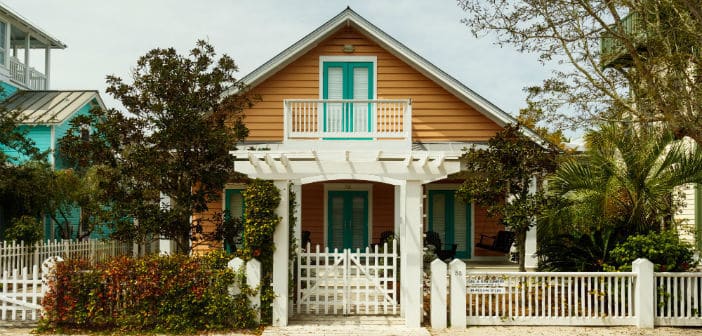 The Logic
Ultimately, I would have loved to keep that property as a rental because I purchased it in the downtown area 15 years ago for dirt cheap. Not only that, but the bones were fantastic, and I had fully renovated the house throughout my time living there. This included turning it into a 3/2 from a 3/1.5, adding a skylight, building a laundry room. and putting built ins in almost every room of the house—plus a built-in breakfast nook with storage.
But because of the fact that I still had a small mortgage on that property, plus some debt from getting my Master's Degree and renovation, I couldn't possibly see how that would work. Instead, I sold it for about three times what I purchased it for, paid off all of my debt (including my car), put about 50% down on the new property, and put some in savings. Therefore, our mortgage at the new property (which is only new to us and was built in 1975) is almost exactly what the mortgage was on our smaller property. And this one has an in-ground pool and my own office, so that I don't have to keep moving my laptop around!
While I couldn't comfortably keep my original primary residence as a rental property, getting rid of all of my debt and creating a better nest egg helped me gain the confidence to finally dip my toe into the real estate investing pool.
Beginning to Invest
I started listening to podcasts and reading blogs to gain other knowledge surrounding the best ways to get into investing with very little capital. There is a plethora of information out there, which is great, but can be hard to weed through sometimes. It has been helpful that I've been contracting for a group of real estate investors for almost two years now, so I have learned a lot about investment properties in different markets.
Since I am a Holistic Health Advisor and Freelance Writer in the finance space, I was planning to attend this awesome conference for people in the financial space called FinCon in October. While I was there, I started networking and inquiring about anyone who might be in the real estate investment space. It was there that I was introduced to Mindy Jensen and Scott Trench. They were not only a wealth of knowledge, but have such great personalities that I had to find out more about who they worked for. They told me to check out the BiggerPockets website and podcast, and I have been hooked ever since!
While at FinCon, I was able to hook up with a group of other real estate investors, and we ended up getting into a sort of round table discussion for a couple of hours. I gleaned much useful information from them, and I was even lucky enough to speak with two investors who have properties in the market I was honing in on. I left FinCon with a ton of notes and a more brightly lit fire to get this ball rolling.
Financing
Financing seemed to be my biggest hurdle, as I have found out seems to be the case for most of us. I spoke to the lender that I used for my new primary residence because he is great at creative financing. He told me to work on a HELOC since I have a lot of equity in the house. I tried to get one through my mortgage company, but they turned me down because they don't like that my income is all 1099. That is the most frustrating part for me with any financing because while I have a great credit score and always pay everybody on time, since I am not a W2 employee (and haven't been for years), I am considered more risky. I am sorry, but I think that is ridiculous!
Hard Lenders
So I went back to the drawing board and started looking at hard money lenders. I heard about Lima One and found out that they have a local branch, so I reached out to them. Based on the information I received, I thought that would work out well for a first property. Still, the interest rates were pretty high, so I would have to figure out how to get a longer term mortgage on the property within a few months to save some of that interest.


LLC Mortgages
Then I ran across another snag that I am still trying to figure out. It appears that most lenders don't want to give you a mortgage if you are purchasing rental properties in an LLC, which we are. They only want to lend you the money if you purchase it in your own name. We could do and then deed it over to the newly formed LLC I created solely for investment properties—but there is this lovely little "due on sale" clause that a lender can decide to activate when the property is deeded to somebody else. This means that the entire note is due immediately. I am still trying to figure out how to feasibly get around this and would love suggestions!
HELOC
Once I decided that I didn't want to use hard money for our first purchase, I started talking to my small bank where I have my current business account. The banker and I have become very good friends, probably because the bank is so small and we really just see eye to eye. So I asked her about getting a HELOC, even though my mortgage is with somebody else. She looked into it and told me that they could do it since they already have all of my income information anyway.
They required an appraisal, but since we just bought the house in April and I still had the appraisal document from the purchase, they accepted that for the HELOC to process. I talked to her about getting this and had the HELOC in my hot little hand in less than two weeks. Once we had that, I knew that it was time to get started investing in our first property.
And it was time to hit the ground running!
Interested in Finding out More? Reach out below
Shawn Ireland
Phone: 913-225-6231
Email: Ireland_Investments@yahoo.com
Address: 1415 Main St. #823, Grandview, MO 64030
---
Website: www.irelandinvestmentsllc.com/
Facebook: @IrelandInvestmentsLLC/
Instagram: @irelandinvestmentsllc
Twitter: @IrelandLlc
---
This information is intended only for the use of the intended recipient(s) and it may be privileged and confidential. Please note that any views or opinions presented in this post are solely those of the author and do not necessarily represent those of the company. This is reposted information and is not original thought of Ireland Investments or anyone associated with the business.
Popular areas we service;
---
Crossroads Real estate, 18th and vine Real estate, Hospital Hill real estate, library district real estate, longfellow real estate, dutch hill real estate, quality hill real estate, river market real estate union hill real estate, Greater downtown KCMO real estate, East Side KCMO real estate, Midtown KCMO real estate, Westport Real estate, Hyde Park real estate, Northeast KCMO real estate, Northland real estate, Plaza Real estate, South Kansas City Real estate, Fairway Kansas real estate, Kansas city Kansas real estate, lake quivira Kansas real estate, Lenexa Kansas real estate, Mission hills Kansas real estate, overland park Kansas real estate, prairie village Kansas real estate, Shawnee Kansas real estate, weatherby lake Missouri real estate, westwood Kansas real estate